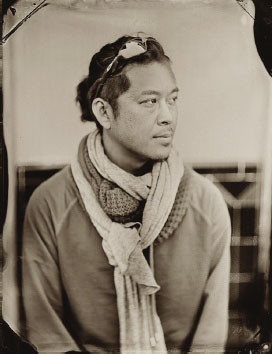 Takashi Arai, né en 1978, est un artiste visuel, vivant entre Kawasaki et Berlin. Il pratique entre autre la technique du daguerréotype.
Arai a découvert la photographie lorsqu'il était étudiant en biologie à l'université. En remontant aux origines de la photographie, il s'intéresse au daguerréotype pour finalement apprendre à maîtriser cette technique complexe. Arai ne considère pas le daguerréotype comme la reproduction nostalgique d'une méthode classique mais plutôt comme un moyen d'expression, un dispositif fiable qui conserve les souvenirs des individus.
En 2010, sa série Here and there - Tomorrow's History dresse le portrait d'une société ravagée par les retombées de la guerre nucléaire, ayant survécu malgré tout aux bombes atomiques de Fukushima, Hiroshima et Nagasaki.
Ses daguerréotypes sont exposés dans diverses collections muséales aux États-Unis, en Europe et au Japon et conservés dans des collections comme celles de la Smithsonian Institution, du Musée des beaux-arts de Boston, du Musée national d'art moderne de Tokyo ou encore du Musée Guimet.
Arai Takashi est le lauréat de plusieurs prix, tels le Prix Source-Cord (2014) au Royaume-Uni, le 41e Prix Kimura Ihei pour sa première monographie, MONUMENTS (PGI, 2015), le Prix de la Société photographique du Japon (Photographic Society of Japan: Newcomer's Award) en 2016 ou encore le Prix du meilleur court-métrage du 72e Festival international du film de Salerne, en Italie, pour son premier court-métrage intitulé Oshira Kagami : The Mirror of the Oshira Deity (Le miroir de la divinité Oshira, 2018).
EXPOSITIONS PERSONNELLES (SELECTION)

2020

1000 Days / 1000 Mirrors, Purdy Hicks Gallery, London.

2019

Imago, PGI, Tokyo.

Tomorrow's History, Staatliche Kunsthalle Karlsruhe, Germany.

2017

Tomorrow's History, Gallery Off Grid, Fukushima.

Cent Soleils, Galerie Camera Obscura, Mois de la Photo 2017, Paris.

Bright was the Morning, Yokohama Civic Galley Azamino, Yokohama.

2016

MONUMENTS: 41th Kimura Ihei Award Exhibition , Konica Minolta Plaza, Tokyo.

2015

The call of Tono, Timeless Gallery, Beijing.
Dragon's Scales - Our Monuments for the Atomic Age, Tokyo Metropolitan Daigo Fukuryu Maru Exhibition Hall, Tokyo.

2014

Silverplated, Artpace San Antonio, TX.
EXPOSED in a Hundred Suns, Photo Gallery International, Tokyo.

2013
D-type Story, Timeless Gallery, Beijing.
Exposed in a Hundred Suns, Amagasaki Cultural Center, Hyogo. Sponsor: Amagasaki Cultural Center
Flowers in Equinoctials, Kurenbo, Tokyo. Sponsor: Chohouin Buddhist Temple
Here and There - Ashita no Shima (Tomorrow's Islands), Meijokan Gallery, Minamisoma, Fukushima. Sponsor: Minamisoma City

2012

Eyes of Fukushima - Mirrors Half Asleep - Takashi Arai Contemporary Daguerreotypes, Maruki Museum (The Maruki Gallery for the Hiroshima Panels), Saitama. Sponsor: Maruki Museum
Here and There - Ashita no Shima (Tomorrow's Islands), Nikon Salon, Tokyo, Osaka. Sponsor: Nikon.

2011

Dream of Image, Timeless Gallery, Beijing. Sponsor: Timeless Gallery.
Mirrors in Our Nights, Kawasaki City Museum, Kawasaki. Sponsor: Kawasaki City Museum.
Lights, Water, Conglomerate, Meiji University Gallery Zero, Kawasaki. Curator: Shino Kuraishi, Meiji University.

2009

Flawless Lakes, Project Basho, Philadelphia. Curator: Tsuyoshi Ito

2007

Toward Lakes, engawa, Hayamamachi, Curator: Hitomi Kintani, Roundish inc.
Half Mirror, Space Gallery Roundish, Osaka, Curator: Hitomi Kintani, Roundish inc.
2006

Rendezvous on Mirror, Yokohama Museum of Art, Yokohama, Curator: Junichi Seki, Yokohama Museum of Art

2001
Ocean Distilled, Cafa Cabiria, Tokyo
EXPOSITIONS COLLECTIVES (SELECTION)

2022

Squaring the Circles of Confusion: Neo-Pictorialism in the 21st century, Royal Photographic Society, Bristol
Picturing the Invisible, Technical University of Munich (TUM), Munich

2021

The world began without the human race, and it will end without it, National Taiwan Museum of Fine Arts, Taipei
CHIBA PHOTO, Kojitsu-tei tea ceremony house, Chiba City
Photographic Occurrences, Cook Center Process Gallery, Indiana University.

2020

AFTERGLOW: Yokohama Triennale 2020, Yokohama Museum of Art, Yokohama.

2019

Feel the Sun in Your Mouth: Recent Acquisitions, Hirshhorn Museum and Sculpture Garden, Washington, DC.
Visible Memories of Technologies, Natural History Museum of Chombook University, Jonju, Korea.
VOCA 2019, The Ueno Royal Museum, Tokyo.

2018

SAN (Three), Gallery Intersection 611, Hiroshima.

2017

DAY TO DAY, Gallery Forest, Space 56, Tokyo Collage of Photography, Yokohama.
KAERU, Chi-Wen Gallery, Taipei.
The Power of Images: MAST Collection. An iconic selection of photographs on industry and work, MAST Foundation, Bologna.
Photobook Phenomenon, Centre de Cultura Contemporània, Barcelona.

2016

Unclear Nuclear, URANO, Tokyo.
The 11th Shanghai Biennale.
Japanese Photography from Postwar to Now, The San Francisco Museum of Modern Art.
The Image as Question: An exploration of evidential photography, Michael Hoppen Gallery, London.
In the Wake: Japanese Photographers Respond to 3/11, Asia Society, Houston.
A New and Mysterious Art, Howard Greenberg Gallery, NYC.
Photo Shanghai, Shanghai Exhibition Center, Shanghai.
Samuel F. B. Morse's Gallery of the Louvre and the Art of Invention, The Peabody Essex Museum, Salem.
Paradise Lost, Museum Villa Rot, Ulm.
Memory of the Future: Photographic dialogues between past, present, and future, Musée de l'Elysée, Lausanne
Festival Photo La Gacilly, Brittany, France.
AIPAD 2016, Park Avenue Armory, NYC.
In the Wake: Japanese Photographers Respond to 3/11, Japan Society, NYC Dubai Photo, D3 Design District, Dubai.
Imagine Fukushima, Court Gallery Kunitachi, Tokyo. *Hosted by Watermark Arts & Crafts

2015

To What End?, Camera Austria, Graz.
In the Wake: Japanese Photographers Respond to 3/11, The Museum of Fine Arts, Boston.

2014

Photography Will Be, Aichi Prefectural Museum, Nagoya.
Words and Photographs: the Seeds of Remembrance, Setagaya Lifestyle Design Center, Tokyo.

2013-2014

Roppongi Crossing 2013: OUT OF DOUBT, Mori Art Museum, Tokyo.

2013

IO-1: Image Object Exhibit, The Center for Alternative Photography, NYC.

2012

OVER THE REALITY, Gallery Terra Tokyo.
Photography Today 4, MOMAT (The National Museum of Modern Art), Tokyo. Sponsor: MOMAT.

2011

EXPOSE / FALLOUT, KEN, Tokyo. Sponsor: KEN / Awazu Design Office.
Portrait Studio in Museum, Yokohama Museum of Art, Yokohama. Sponsor: Yokohama Museum of Art, CP+2011. Cooperation: Photographers' Association of Yokohama City.

2010

Immemorial Foreseeing, Fellini Gallery, Shanghai, China.

2009

Héritages de Daguerre, Exposition en France de Daguerréotypes contemporains internationaux et Diorama de Bry-sur-Marne, Bry-sur-Marne, France. Curator: Marc Kereun, Association Louis Daguerre.

2007

City Panoramic, san art, Ho Chi Minn City.

2004

Yojo no Uki, Hanano Ikada Buoys on the Water, Rafts of Petals, Yokohama Red Brick Warehouse, Yokohama.

2003

Aria, Hiyoshi Art and Performance Project, Keio University, Yokohama
FILMOGRAPHIE

2022

COVIDiaspora: Japan's Travel Ban and the Families Torn Apart (20min/Color/H.264/Stereo)

2021

To the Land of Mothers: The Hiroshima Panels 2021 (60min/Color/CDP/5.1ch)

2018

Oshira Kagami (20min/Color/CDP/5.1ch)

2014

49 PUMPKINS (12min/Color/H.264/Stereo)
COLLECTIONS PUBLIQUES

Hirshhorn Museum and Sculpture Garden
San Francisco Museum of Modern Art
Museum of Fine Arts, Boston
Musée Guimet
Museum of Modern Art, Tokyo
Tokyo Metropolitan Museum of Photography
Musée de l'Elysée
MAST Foundation
Peabody Essex Museum
Musée Français de la Photographie
Aichi Prefectural Museum of Art
Kawasaki City Museum
Chiba City Museum of Art
Amana Collection
Musée Adrien Mentienne, Bry sur Marne
BIBLIOGRAPHIE

2015
MONUMENTS, Photo Gallery International
ドイツ 丘の上の小さなハカセ クラース (世界のともだち) Germany: A Little Doctor on a Hill, Claas (Friends from the World Series)

2014
EXPOSE, Issue1

2012
Here and There, Ashita no Shima (Tomorrow's Islands), KAGAMI

2012
Shujitsuroku Yori, Private Edition