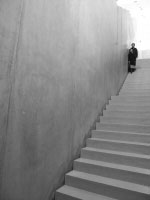 BIOGRAPHIE
Né au Japon, en 1957.

Yamamoto Masao a étudié la peinture, pour ensuite choisir de se consacrer à la photographie autour des années 1980.
Durant une vingtaine d'années, Yamamoto Masao a construit un ensemble photographique d'une écriture très personnelle, qu'il a intitulé d'abord « A box of Ku » puis « Nakazora » (termes rattachés à la philosophie bouddhiste : Ku = vide, Nakazora = entre le ciel et la terre).
Ses photographies, sortes de « haïkus photographiques », prenaient la forme de petite images fragiles et patinées, comme marquées par le passage du temps. On les imaginait sauvées de l'anonymat, extraites d'une boîte de souvenirs trouvée aux puces.

Démarche cohérente et touchante : Yamamoto Masao explorait la puissance poétique des images, leur capacité à restituer un sentiment de mémoire, le souvenir ténu reliant l'image au monde.
Yamamoto Masao aurait pu continuer indéfiniment à remplir sa « boîte vide » (box of Ku), mais la nécessité lui est apparue de concentrer son regard, d'aller plus lentement et de suivre un fil, celui de la métamorphose de la rivière (Kawa), du flot immuable et à chaque instant renouvelé de l'existence.
Cette concentration s'accompagne d'un renouvellement de la forme et de la façon de montrer ses images : abandonnât l'idée d'accumulation (boîte de tirage que le visiteur peut « feuilleter » ou mise au mur très libre d'une profusion de photographies), Yamamoto souhaite que le spectateur s'arrête sur chaque photographie, qui est donc encadrée individuellement de façon classique.
CHOIX D'EXPOSITIONS PERSONNELLES :
2022
La vie simple Galerie Stefan Vogdt (Münich - Allemagne)
2021
SASANAMI - evam eva yamanashi (Japon)
Un monde dans la main - Galerie Camera Obscura (Paris / France)
Son Album - La Fabrique du Pont d'Aleyrac (Ardèche / France)
Mallarmé invite…Yamamoto - Musée départemental Stéphane Mallarmé (Paris / France)
Bonsai - PDX Contemporary Art (Portland / EU)
2019
Itteki - Yancey Richardson Gallery NY
Yamamoto Masao - Kiyosato photo Art Museum Yamanashi Japan
Bonsai - Galerie Baumgarten (Freiburg / Germany)
Bonsai - Robert Koch Gallery (San Francisco / EU)
Bonsai - Jackson Fine Art (Atlanta / EU)
Bonsai- Mizuma Art Gallery (Tokyo / Japon)
2018

Tori - VALID FOT (Barcelone / Espagne)
Microcosms Macrocosms - Stephen Bulger Gallery (Toronto / Canada)
Microcosm Macrocosm - Alfred Ehrhardt Stiftung (Berlin / Allemagne)
A Box of Ku - Multimedia Art Museum (Moscou / Russie)
Yamamoto Masao - Instituto Figueiredo Ferraz (Brésil)
Tori - Craig Krull Gallery (LA / EU)
Tori - Etherton Gallery Tucson (EU)

2017

Yamamoto Masao - Museo Oscar Niemeyer (Brésil)
Tori Galerie - Camera Obscura (Paris / France)
Tori Gallery - Fifty one (Antwarp / Belgique)
Yamamoto Masao - Schloss Bonndorf (Allemagne)
Tori - PDX Contemporary Art (Portrand / EU)
Tori - Galerie der Moderne (Münich / Allemagne)
Tori - Tsutaya (Tokyo/ Japon)

2016

Tori Yancey Richardson Gallery, NY
Small Things in Silence Centoro Nimeyer, Avilés ,Spain
Yamamoto Masao Galeria Marcelo Guanieri, Rio de Janeiro
Small Things in Silence Fundació Toni Catany, Mallorca

2015

Small Things in Silence - GALLERY FIFTY ONE (Anvers / Belgique)
Small Things in Silence - espacio foto (Madrid / Espagne)
Kawa=Flow - JACKSON FINE ART (Atlanta / EU)
Small Things in Silence - GALERIE CAMERA OBSCURA (Paris / France)
Small Things in Silence - VALID FOTO (Barcelona
Small Things in Silence 「小さきもの、沈黙の中で」- MIZUMA ART GALERY (Tokyo / Japon)

2014

Small Things in Silence - semina rerum (Zürich / Allemagne)
Shizuka=Cleanse - GALLERY OUT OF PLACE (Nara / Japon)
Space of Serenity, Time for Prayers - Daegu Photo Biennale2014 (Daegu / Corée)
"YAMAMOTO MASAO - GALERIA MARCELO GUANIERI (Sao Paulo / Brésil)
Shizuka=Cleanse - Craig Krull Gallery (Santa Monica / EU)

2013

Kawa-Flow - Galerie de Moderne (Münich / Allemagne)
YAMAMOTO MASAO - Etherton Gallery, (Tucson / U.S.)
YAMAMOTO MASAO - Gallery Kochuten, Nagoya (Japon)
one-day exhibition by Jeff Cowen and Yamamoto Masao - PUG (Oslo)
YAMAMOTO MASAO - Gallery Albert Baumgarten , Freiburg (Allemagne)
KAWA=FLOW Städt -Galerie im Schloss, Isny Allgäu (Allemagne)

2012

KAWA=FLOW - Installations - BREDA PHOTO (Breda / Pays-Bas)
YAMAMOTO MASAO - VALID FOTO GALLERY (Barcelone/ Espagne)
Shizuka=Cleanse - Galeria Massimo Minini (Brecia / Italie)
Magic Mountain - YANCEY RICHARDSON GALLERY (New York / EU)

2011

YAMAMOTO MASAO - Gallery MOMOGUSA, Tajimi (Japon)
YAMAMOTO MASAO - GALERIA MARCELO GUANIERI (Sao Paulo / Brésil)
KAWA=FLOW - Mugaen Museum, Hekinan (Japan)
KAWA=FLOW - MIZUMA & ONE GALLERY (CAOCHANGDI PHOTOSPRING 2011) (Beijing - Chine)
KAWA=FLOW - PDX Contemporary Art, Portland (EU)
KAWA=FLOW - Robert Klein Gallery (Boston / EU)
KAWA=FLOW - Yancey Richardson Gallery (New York / EU)
KAWA=FLOW - Craig Krull Gallery (Santa Monica / EU)
KAWA=FLOW - maerz galerie, Leipzig (Allemagne)

2010

KAWA=FLOW - maerz galerie (Berlin / Allemagne)
KAWA=FLOW part Ⅱ - Semina rerum (Zürich / Allemagne)
YAMAMOTO MASAO - Robert Koch Gallery (San Francisco / Allemagne)
KAWA=FLOW - Galleria Alesso Nobilli & C. (Milan/ Italie)
KAWA - GALERIE CAMERA OBSCURA (Paris / France)
KAWA=FLOW - WOOLRICH WOOLEN MILLS (Milan / Italie)
2009
é - Etherton Gallery (Tucson / EU)
KAWA=FLOW - PDX CONTEMPORARY ART (Portland / EU)
KAWA=FLOW - JACKSON FINE ART (Atlanta / EU)
KAWA=FLOW - MICAMERA (Milan / Italie)
KAWA=FLOW - Semina rerum (Zürich / Allemagne)
KAWA=FLOW - FIFTY ONE FINE PHOTOGRAPHY (Anvers / Belgique)
KAWA=FLOW - Photomonth in Krakow (Cracovie / Pologne)
2009

KAWA=FLOW - MIZUMA ART GALLERY (Tokyo / Japon)
KAWA=FLOW- FORUM FOTOGRAFIE (Köln / Allemagne)
KAWA=FLOW - GALLERY SINCERITE (Toyohashi / Japon)
KAWA=FLOW - Gallery Albert Baumgarten (Freiburg / Allemagne)
KAWA=FLOW - POBEDA GALLERY (Moscou / Russie)

2008

YAMAMOTO MASAO - CRAIG KRULL GALLERY (Santa Monica / EU)
Nakazora - GALLERY BIENIO (Nagoya / Japon
KAWA=FLOW - YANCEY RICHARDSON GALLEY (New York / EU)
Nakazora - The Print Center (Philadelphie / EU)
KAWA=FLOW - Gallery la-condition-japonaise (Berlin / Allemagne)
YAMAMOTO MASAO - GALLERY OUT OF PLACE (Nara / Japon)
COLLECTIONS :
Harvard University Art Museums, Cambridge
Philadelphia Museum of Art, Philadelphia
Museum of Fine Arts, Houston
The International Center of Photography, New York
Center for Creative Photography (CCP), Tucson
Princeton University Art Museum, Princeton
Santa Barbara Museum of Art, Santa Barbara
Portland Art Museum, Portland
Maison Européenne de la Photographie, Paris
Center for Photographic Art, Carmel
Victoria&Albert Museum, Londres
Quinzaine photographique Nantes, France
Forum für Fotografie , Köln / Germany
Fondation d'entreprise Hermès / Paris
Art at Swiss Re / Zurich, Switzerland
Nelson Atkins Museum, Kansas City
Cornell Fine Arts Museum at Rollins College
Yale University Art Gallery
Microsoft Art collection
BIBLIOGRAPHIE :
2009
Yamamoto Masao, Galerie Albert Baumgarten, Allemagne
2008
Fujisan, Nazraeli Press
2005
é Nazraeli Press
2003
Santoka, Harunatsuakifuyu Sousho, Japon
Omizuao Nazraeli Press
2002
The Path of Green Leaves, Nazraeli Press
2001
Nakazora, Nazraeli Press
1998

A box of Ku, Nazraeli Press